Dr. Michael Dann is double board certified by the American Board of Internal Medicine in Gastroenterology and Hepatology.
Dr. Dann is a renowned NYC gastroenterologist who specializes in conditions of the gastrointestinal tract including irritable bowel syndrome, hemorrhoid treatment, GERD / heartburn, rectal bleeding, gastritis, inflammatory bowel disease and colon cancer prevention.
Educational background
Dr. Dann completed his undergraduate education at Stony Brook University where he earned a bachelor's degree in biochemistry. Dr. Dann went on to earn his medical doctorate from Upstate Medical University Syracuse.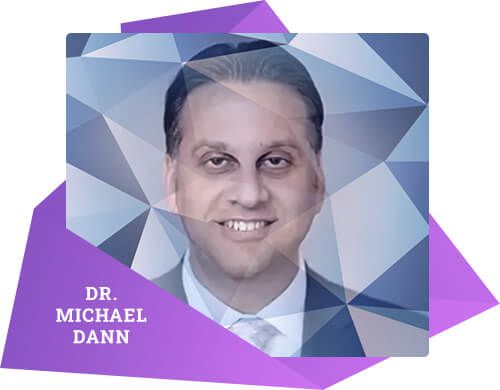 Dr. Dann completed his Internal Medicine training at Tripler Army medical Center and went on to complete his sub-specialty training in Gastroenterology and Hepatology from Robert Wood Johnson Medical School.
Awards Received
Dr. Dann has received many awards throughout his medical career including:
The Defense Meritorious Service Medal
Meritorious Service Medal
NATO ISAF Medal
Afghanistan Campaign Medal
Army Commendation Medals
Army Achievement Medal
The Army Superior Unit Award
He has also received the Robert Wood Johnson School of Medicine Fellowship Research Award and was instrumental in obtaining the American Society for Gastrointestinal Endoscopy Unit Recognition designation.
Memberships & Associations
Dr. Dann has been in active in clinical research and has served as a coinvestigator of a protocol regarding endoscopic mucosal resection and ablation of Barrett's Mucosa. As a leading NYC gastrologist he has also written a manuscript entitled "Detection of Intestinal Metaplasia at the Esophagogastric Junction in the Absence of Barrett's Epithelium Using a Novel Monoclonal Antibody".
Passion for Patient Care
Dr. Dann provides highly personalized and comprehensive care. His philosophy regarding the doctor/patient relationship is based on trust and has earned him one of the most respected reputations in NYC. Dr. Dann has had a distinguished career in the US Army and has served the Chief of Gastroenterology at two large academic centers during his career.
Gastrologist Dr. Dann has also served as a medical director while deployed to Afghanistan and was the sole physician responsible for the care of over 2000 active duty and civilian personnel. Dr. Dann is proud to be part of our gastroenterologist's NYC team of Manhattan Gastroenterology. He is affiliated with NY Presbyterian/Weill Cornell Medical Center.