I am a Board Certified Gastroenterologist who strives to offer the best digestive care in Queens & Manhattan by taking patient histories in their primary language (Spanish or English), providing thorough physical examinations, and educating my patients on his or her condition(s). If needed, an endoscopy or colonoscopy procedure can be privately performed in my office with a Board Certified Anesthesiologist. Additionally, I provide my cell phone number and email address in case I am needed after office hours, which are Monday – Friday and Sunday 8:00 AM – 8:00 PM.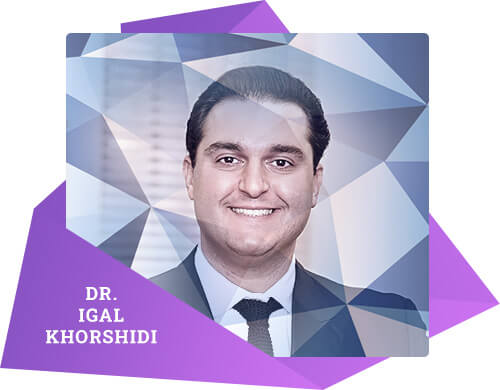 Same Day Endoscopy in Queens
As A Board Certified Therapeutic Gastroenterologist, I Am Trained To Evaluate And Manage:​​
Gastroesophageal Reflux Disease (GERD)
Peptic Ulcer Disease (PUD)
Gastric Ulcer, Esophageal Ulcer, Duodenal Ulcer
Gastritis, Esophagitis, Duodenitis
Family History of Colon Polyps
Family History of Colon Cancer
Inflammatory Bowel Disease (IBD)
Irritable Bowel Syndrome (IBS)
H. Pylori Infection
Abdominal Pain
Difficulty Swallowing
Nausea & Vomiting
Dypepsia, Bloating & Gas
Screening Colonoscopy
Screening Endoscopy
Constipation & Diarrhea
Halitosis - Bad Breath
Colitis
Anemia
Our office is conveniently located in Jackson Heights, directly in front of Elmhurst Hospital, in the most culturally-diverse part of Queens. Our team at New York Gastroenterology & Endoscopy welcomes any opportunity to speak with patients further and show our newly constructed AAAASF certified endoscopy suite.
Dr. Khorshidi is skilled in both Diagnostic (EGD and Colonoscopy) and Advanced (ERCP) Endoscopy with a background in Internal Medicine from Montefiore Medical Center and Liver Transplantation from Mount Sinai Medical Center. Dr. Khorshidi has the ability to provide excellent care in common clinincal conditions such as Colorectal Cancer Screening, Chronic Constipation, Anemia, Gastro Esophageal Reflux Disease, Swallowing Disorders, Peptic Ulcer Disease, Acid, Bloating, Gas, as well as more complex diseases of the GI tract, including Pancreatic, Biliary, and Liver diseases. New York Gastroengerology & Endoscopy is a paperless medical offering comprehensive, timely, and compassionate digestive care. Each patient is provided with their own secure web portal online with an iPhone or Android App to access their medical records, send a secure message to their healthcare provider, schedule an appointment, and receive patient specific educational resources from the Mayo Clinic database.
Insurances accepted
Hospital Affiliations:
Northwell
Albert Einstein College of Medicine
Montefiore Medical Center
Lenox Hill Hospital
Long Island Jewish
North Shore University Hospital
Mount Sinai Hospital
Education:
Bruce Rappaport Faculty of Medicine, Technion Israel Institute of Technology (Medical School)
Albert Einstien College of Medicine - Montefiore Medical Center (Residency)
Maimonides Medical Center (Fellowship)
Mount Sinai Hospital (Transplant Hepatology)
Touro College and University System (Master's in Biomedical Sciences)
New York University (Undergraduate College, Bachelors in Chemistry)
Dr. Khorshidi's Awards And Publications:
ACG Presidential Poster Award
Albert Einstein College of Medicine, Department of Medicine, Research Award
Dean's Honor List: School of Medicine, Touro, and NYU
Phi Lambda Upsilon—National Chemistry Honor Society, Vice President
National Dean's Honor List
NYU Chancellor's Scholarship
NYU Honors Scholar
NYU Founders' Day Award
Bose KP, Khorshidi I, Southern WN, Brandt LJ: "The Impact of Ethnicity and Obesity on the Course of Colonic Diverticulitis"; Journal of Clinical Gastroenterology. 2013 Feb;47(2):160-164
Southern WN, Rahmani R, Aroniadis O, Khorshidi I, Thanjan A, Ibrahim C, Brandt LJ: "Postoperative Clostridium difficile-associated diarrhea"; Surgery. 2010 Jul;148(1):24-30
Farooq S, Rahmani R, Khorshidi I, Tenner S: "Does Intravenous Lidocaine Decrease Pain in Patients Undergoing Propofol Sedation for Endoscopic Procedures?" 2010 Presidential Poster; American J. Gastroenterology Vol. 105, Issue s1, p 524, Oct 2010
Khorshidi I, Rahmani R, Tsirlin Y, Tenner S: "Spontaneous Enterocutaneous Fistula: A Rare Presentation for Recurrent Transverse Colonic Carcinoma"; American J. Gastroenterology Vol. 105, Issue s1, p 329, Oct 2010
Rahmani R, Khorshidi I, Brandt LJ: "Race and Ethnicity as Risk Factors for Post-Surgical C. difficile Infection and its Mortality"; Gastroenterololgy. Vol. 134, No. 4, s1, p 671, April 2008
Khorshidi I, Chernis G, Rahmani R, Brandt LJ: "The Impact of BMI and Ethnicity on the Course of Colonic Diverticulitis"; American J. Gastroenterology Vol. 102, Issue s2, p 260, Sept 2007
Khorshidi I, Yousefzadeh E, Mackey V, Greenwald D: "Does Pre-Procedural Counseling by Peers Improve Completion Rates?"; American J. Gastroenterology Vol. 102, Issue s2, p 532, Sept 2007
Rahmani R, Southern W, Khorshidi I, Brandt LJ: "Post-Surgical Clostridium difficile Infection"; American J. Gastroenterology Vol. 102, Issue s2, p 271, Sept 2007
Khorshidi I, Maratchi LS, Ho S: "Endoscopic Management of Food Impaction in the Upper Gastrointestinal Tract: A Tertiary Care Center Experience"; Gastrointestinal Endoscopy Vol. 65, No. 5, p330, April 2007
Khorshidi I, Greenwald D: "Does Pre-Procedural Counseling by Peers Correlate with Improved Medical Compliance: A Prospective Study at an Inner City Hospital"; Gastroenterology Vol. 132, Issue 4, Suppl. 2, p 809, April 2007
Levitt BS, Khorshidi LJ, Ho S: "Post-Procedural Interpretation of ERCP Films by Radiologists: Is it Really Necessary?"; American J. Gastroenterology Vol. 101, Issue s2, pp 122-3, Sept 2006
Sotiriadis J, Khorshidi I, Brandt LJ: "Does Colon Ischemia Have a Worse Prognosis When Isolated to the Right Side?"; Gastroenterology Vol. 130, Issue 4, suppl. 2, p 460, April 2006
Naschitz JE, Dreyfuss D, Khorshidi I, Rosner I, Gaitini L: "Pulse Transit Time by R-wave Gated Infrared Photoplethysmography"; Journal of Clinical Monitoring and Computing Vol. 18, No. 5-6, pp 333-42, Review Dec 2004
Cardiovascular Reactivity by Fractal and Recurrence Quantification Analysis of Heart Rate and Pulse Transit Time. Journal of Human Hypertension Vol. 17, No. 2, pp 111-118, Feb 2003